QUALIFICATIONS
2000-2004 : Master's Degree In Conservation Of Paintings
University of Paris Sorbonne. Thesis subject: "Moisture treatments reducing distortions of paintings: historical and technical studies". With First Class Honours.
1999 : Bachelor's degree in Art History at University of Lyon 2.
1998 : Bachelor's degree in History at University of Lyon 3.
1996 : Preparatory Class (Humanities) for entrance into French "grandes écoles"
1995 : High school diploma in Mathematics, Physics and Chemistry
INTERNSHIPS

Jan.-June. 2004
Brooklyn Museum, New York – USA.

Sept.-Nov. 2003
Aros Museum, Aarhus – DENMARK.

Sept. 2002
Brussels, BELGIUM: under the supervision of Mr. Jean-Albert Glatigny, working at the IRPA

June 2002
LP3 Conservation panel paintings, Burgundy.

June 2001
Studio of Mrs. Laurent, Montreuil (Paris). Treatment of large canvas paintings.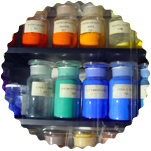 CAREER

Private studio
in Lyon since 2010

Freelance since 2006

2003 to 2008: Employed by different studios in Lyon, Paris and Burgundy

Professionnal experience abroad:
Under the supervision of Cartel Collections, at the Museum of Arab Modern Art of Doha (Qatar) in 2008 and 2012. In English.